As many of you are probably aware, Lady Anne Funerals is an active supporter of charity organisations in our lovely Ryde community. It should come as no surprise then that we are soon to be hosting a trivia fundraiser to which you are all invited to!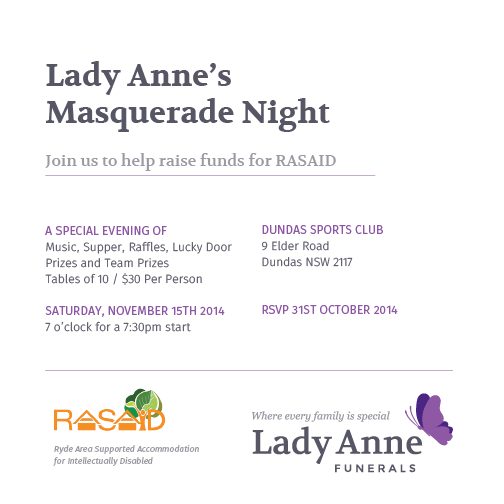 A trivia night for all to enjoy
The Lady Anne Funerals Trivia Night will be held on Saturday the 15th of November and is set to be a fantastic night for trivia lovers of all ages and backgrounds. Apart from rounds of entertaining and challenging trivia, the evening will be filled with music, raffles, a bunch of lucky door prizes and of course prizes for teams that show off their trivia expertise. A delicious supper will also be provided.
This is a great opportunity to catch up with some friends and have a great night supporting one of Ryde's most important charities.
What's the theme?
The theme for the trivia night is masquerade! So that means donning a mask and making it just a little bit trickier for people to recognise you. Dressing to a theme is just a bit of fun but if you need some inspiration, take a look at some of these amazing ideas over on Pinterest. Be sure to follow us while you're there!
How much does the Lady Anne Funerals Trivia Night cost?
Trivia teams will be organised into tables of 10 people and entry is just $30 per person and includes the supper.
If you have a group of 10 people who want to join the trivia night then let us know and we can seat you all on the same table. If you're just a couple of people or even wanting to join in by yourself that is no problem at all. All you need to do is register and we will take care of the rest.
Where is the trivia night held?
The Lady Anne Funerals Trivia Night will be held at Dundas Sports Club. We'll be kick starting the event at 7:30pm so guests are invited to arrive at 7:00pm.
Why host a trivia night?
Over the past five years, Lady Anne Funerals has been throwing various charity events in support of RASAID. This year we have enjoyed expanding our efforts to raise funds for an organisation we hold so dear and our Masquerade Trivia Night is just another chance for us to pledge our support for an organisation that does wonderful work in our Ryde community.
Who is RASAID?
RASAID is a group of 19 families from Sydney's Ryde area. Collectively, the families have 20 adult sons and daughters each individually with dependant intellectual disabilities. "RASAID" has been formed by the parents, who themselves, have reached or are rapidly approaching the retirement age. These tireless parents have unconditionally cared for their children since birth. For whatever reason, physically, mentally or financially, they can no longer continue to do so.
RASAID have been successful in securing both federal and government grants to purchase the land and buildings. But expenses don't stop here so join us to help pledge support and make their dreams a reality.
When do I need to RSVP?
To secure yourself a spot at one of our tables, you must register by October 31st. If you haven't got a team don't worry about rushing to organise one, we can take care of that. The important thing is to get yourself registered. It is set to be fantastic night and we expect tickets and tables to be snatched up pretty quickly so be sure to register by October 31st!
How can I book a table?
You can book a table by calling Lady Anne Funerals on 1300 74 00 74 or by sending an email to info@laf.com.au
The ladies and I look forward to seeing as many of you there as possible!