I thought I'd use this blog post to give a quick run down as to why we are using hashtags across our social sites.
New website & more social
As you no doubt have noticed, we recently updated our website to give you a fresher, easier to use and more beautiful website. We've also dived into using more social media so you can find us on all your favourite sites including Facebook, Pinterest, Instagram and Google+. Along with our new online adventures, we have started using hashtags.
Hashtags are probably something you have both seen and heard of but not everyone is using them yet. For many of us, the whole social media world is a totally new concept. It just simply not exist 10 to 20 years ago. So don't put too much strain on yourself if you don't understand everything that happens on Facebook, Twitter or Instagram. The thing that counts is that you have fun while using it!
What is a hashtag?
A hashtag is a simpler way to categorise and find things online. It might sound complicated but it can actually be compared to something like a real world filing cabinet. In your filing cabinet, you have a number of draws containing files that are usually ordered alphabetically or by subject. Within those files you might have another organisation system like the date or who it belongs to. Using a filing cabinet is a great way to group and keep track of documents based on their similarity or importance.
A hashtag essentially does the same job but on a grander and much more public scale. So, everyone on Facebook, Twitter or Instagram that posts about flowers using the hashtag '#flowers' will have their posts grouped together with everybody else that uses '#flowers' in their posts. This makes finding information about flowers really easy and also to know what everyone thinks about flowers.
Our hashtags
We use a bunch of different hashtags based on whatever we are posting at the time. Sometimes it might be what's in the photo (e.g. #flowers) or it might be something that we have started doing ourselves. The hashtag #deepbreath is a good example of this. Every week or so, we post an inspirational quote that helps us to just take a deep breath and relax - it makes life a little bit easier. You might have already seen them across Facebook, Instagram, Pinterest and Google+.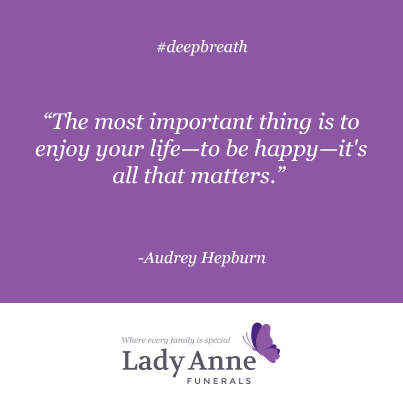 How to use a hashtag
Now you might be thinking, ok but how can I use these hashtags? You can use it one of two ways:
If you wanted to find all of Lady Anne Funeral's 'Deepbreath' quotes, you just need to search #deepbreath on Facebook, Instagram, Pinterest or Google+.
If you come across a quote, image, video or inspirational post that's similar to what we post about on our social medias, then you can use the hashtag #deepbreath in your post! Then we can also see it (and like or share it) when we search the hashtag.
This is the part that we like because it means we get a chance to be more social with all you guys!
See you on the hashtag!
So in learning why we use hashtags and what some of them are, we hope that you'll be able to use them too. Because the more people that do get involved, the more photos, videos and inspirational posts we will all have to share with one another.